Building a Screen Door from Scratch
Materials List
1 piece of 2″ x 8″ x 8′ spruce
3 pieces of 2″ x 4″ x 8′ spruce
2 pieces of 1" x 6" x 8' shiplap
4 pieces of 1/4″ x 3/4″ x 8′ screen moulding
Adding a screen door to your home is a great way to embrace the warmer weather, though of course you leave it on year-round. It's also a DIY project that will spark your creative design instincts. Follow blogger and designer Chantelle Lourens' easy steps to build your own screen door!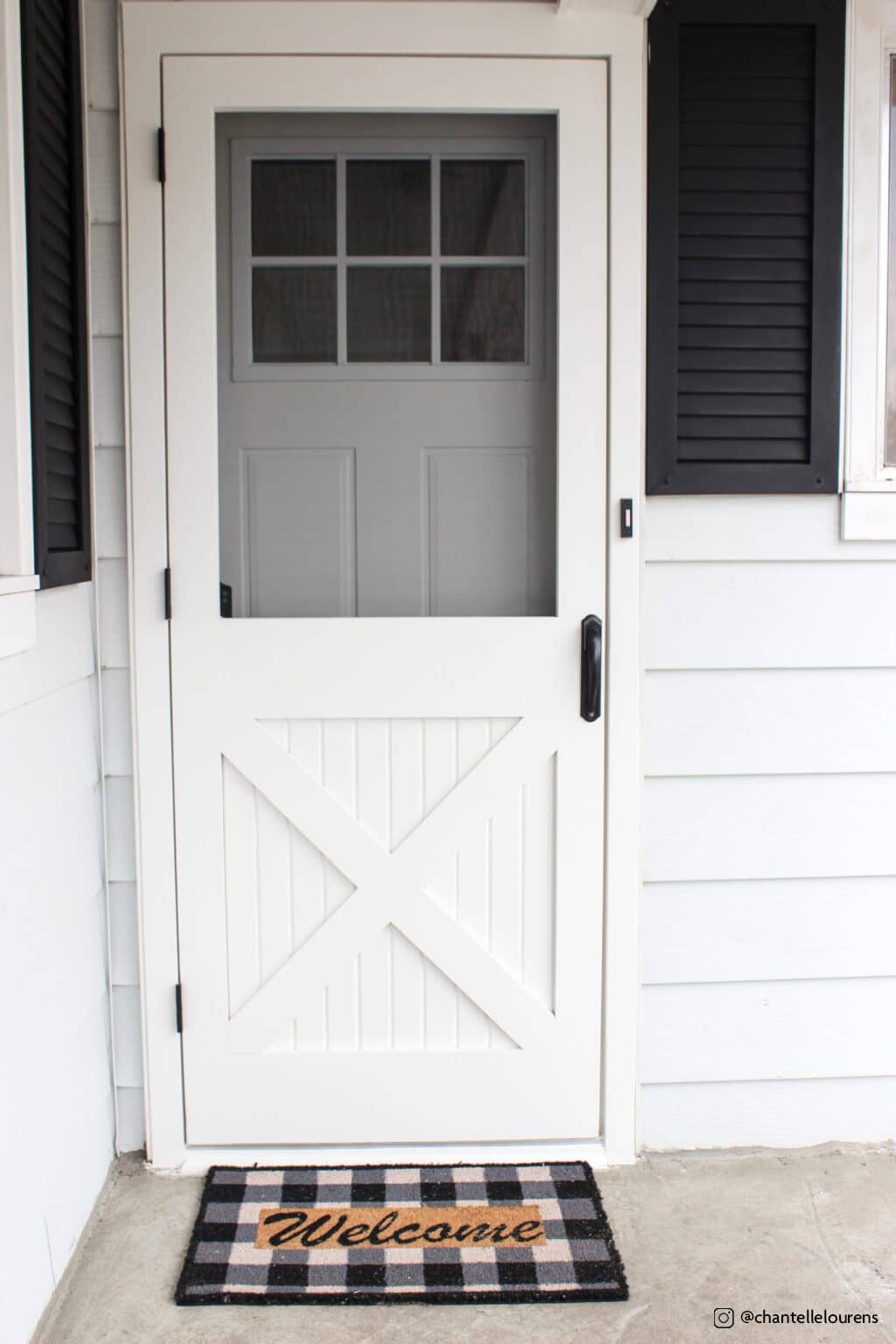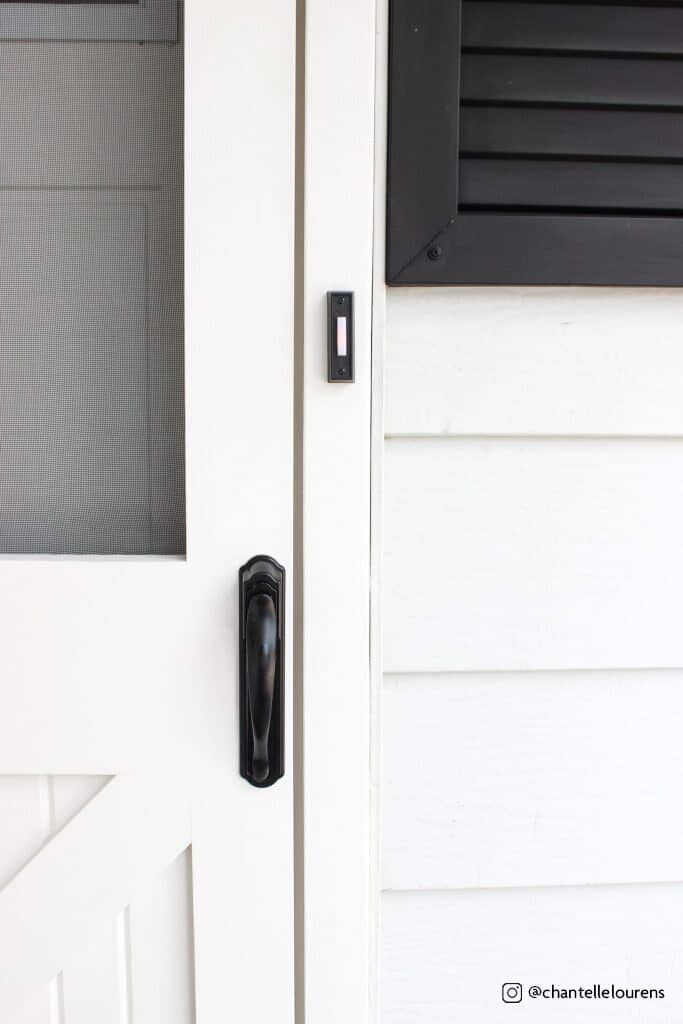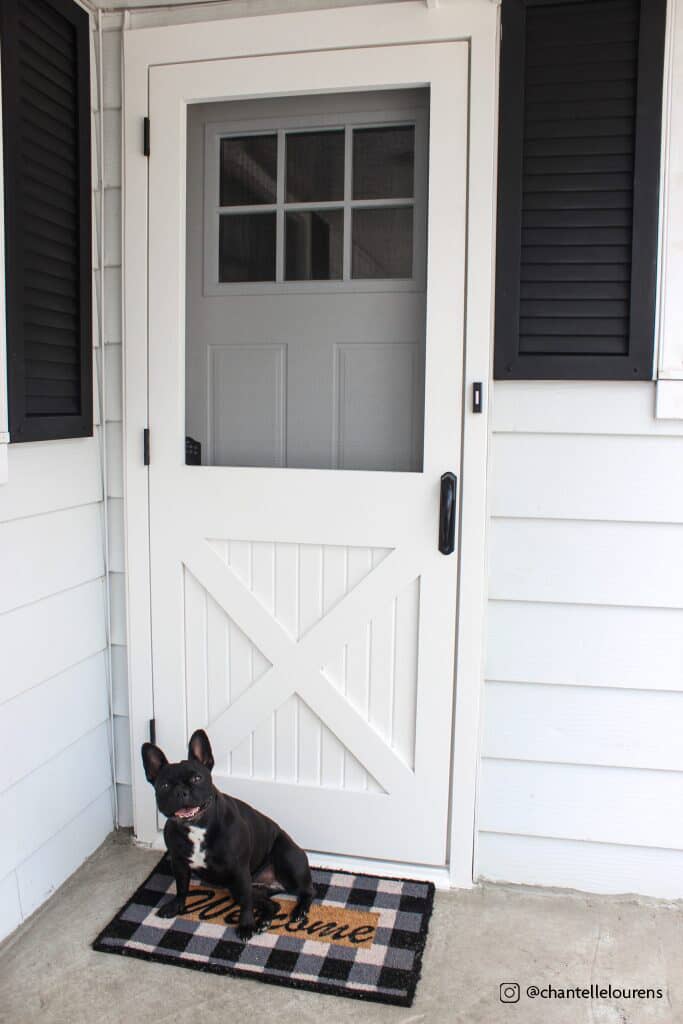 A simple screen door can add so much ambience to your home. Whether it's a balmy spring breeze, cool air on a hot day or the sweet smell and sound of summer rain, I just love how it brings the outdoors inside. When our drab old metal screen door finally gave out I was determined to replace it with something beautiful. Our old door also had a structural deficiency: the screen was on the bottom and prone to being pushed in by dog paws and little fingers. So we decided to custom build! Below you'll find our tools and materials checklists and easy step-by-step instructions on how we built our new screen door. Just follow along and you can do it too!
Step 1: Measuring & Cutting
We used brick mould to create a frame around the door opening to know the dimensions of door we needed (the size may vary in your home). Then we took a quarter inch off all around to allow room for the door to swing. Next we used a mitre saw to cut two 8-foot pieces of spruce (2″ x 4″) for the door's outer edges (80 inches in our case). Then we cut the top, middle and bottom portions of the door to a width of 24½ inches (2" x 4" for the top and 2″ x 8″ for the middle and bottom). We then laid the boards out on a table and used a carpenter square and measuring tape to square everything up. To ensure enough frame clearance we used a block plane to shave down the 1½-inch factory thickness to 1⅜ inches.
Step 2: Marking & Fitting
First we marked out the location of our door handle. Then we marked out where to drill our biscuit holes (grooves in the wood) to join the pieces together. We created approximately 20 holes in total. Our top piece had four holes (two on either side) and our middle and bottom pieces had eight holes each (four on either side). We dry fit the entire door together to confirm the fit is snug and flush.
Step 3: Glue Time!
We generously applied weatherproof glue to all of the biscuits and the seams joining into one another. We clamped the entire door together and double-checked that everything was still square, making minor adjustments until perfect. We left it clamped like this to dry for several hours. Once dry, we gave the door a light sand to smooth out any imperfections in the joins.
Step 4: Making Our Shiplap
Using a router, we created a notch for the shiplap to fit into and made a 3/8" x 5/8" groove around the bottom square for the shiplap design feature. We marked the centre of our door as a starting point and worked our way out to allow for even filler pieces of shiplap on both sides. Then we measured and cut our pieces. The shiplap we used was 1″ x 6″ x 12′ long and the final square ended up being five pieces (26-inches tall x 24½ inches wide). Once dry-fitted we glued it all together, pin-nailed the outer edges into the groove and allowed it to dry for several hours. After a good sanding we added the screen door trim around the shiplap to cover up the nails and grooves, filled any nail holes and knot holes, and sanded smooth again.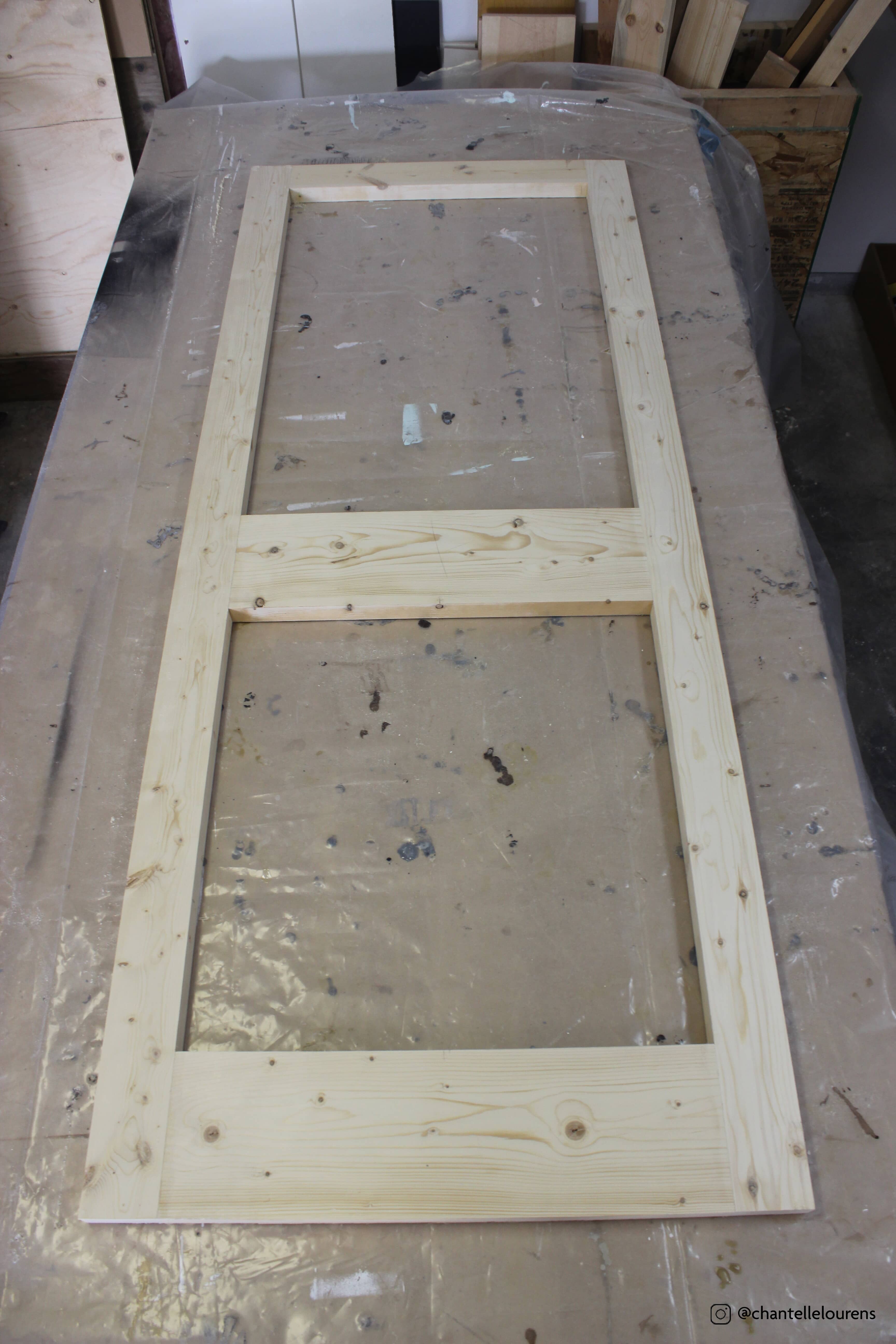 Step 5: Paint & Design
We applied two coats of Beauti-Tone Exterior Designer Series paint in the shade 'Powdered Donuts (WB024-0)', one of our favourite Home Hardware paint colours. Next up was to create the X design on the bottom half of the door. Using a 1″ x 4″ x 6′ board, we cut it in half to make a 3′ x 3' X shape (pre-fitting everything dry in advance). We added one layer of paint to the newly cut pieces before gluing and nailing them into place. This helps seal the back of the wood to prevent water damage.
We then glued and pin-nailed the X design boards into place, filled the nail holes, sanded out any imperfections and painted them again.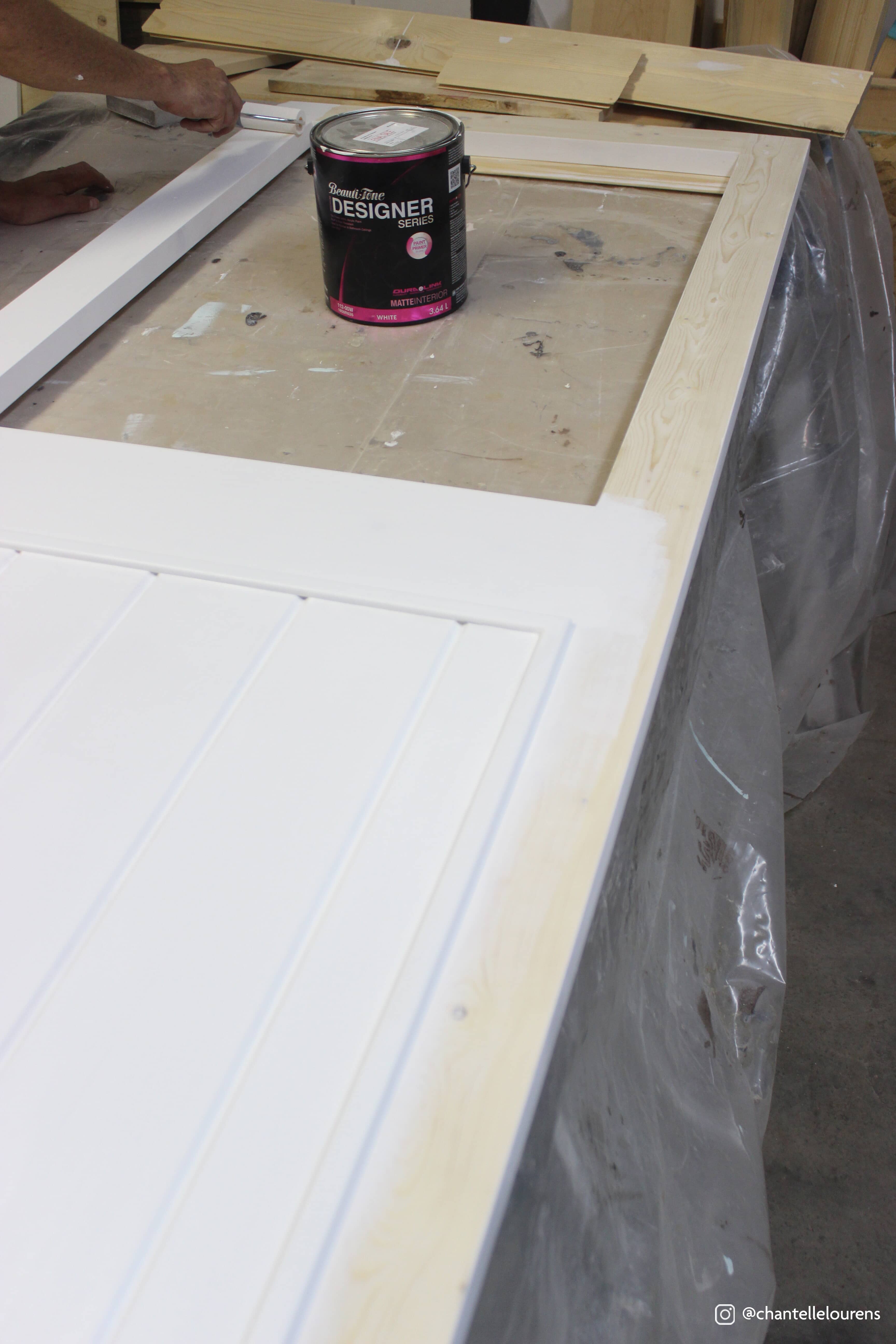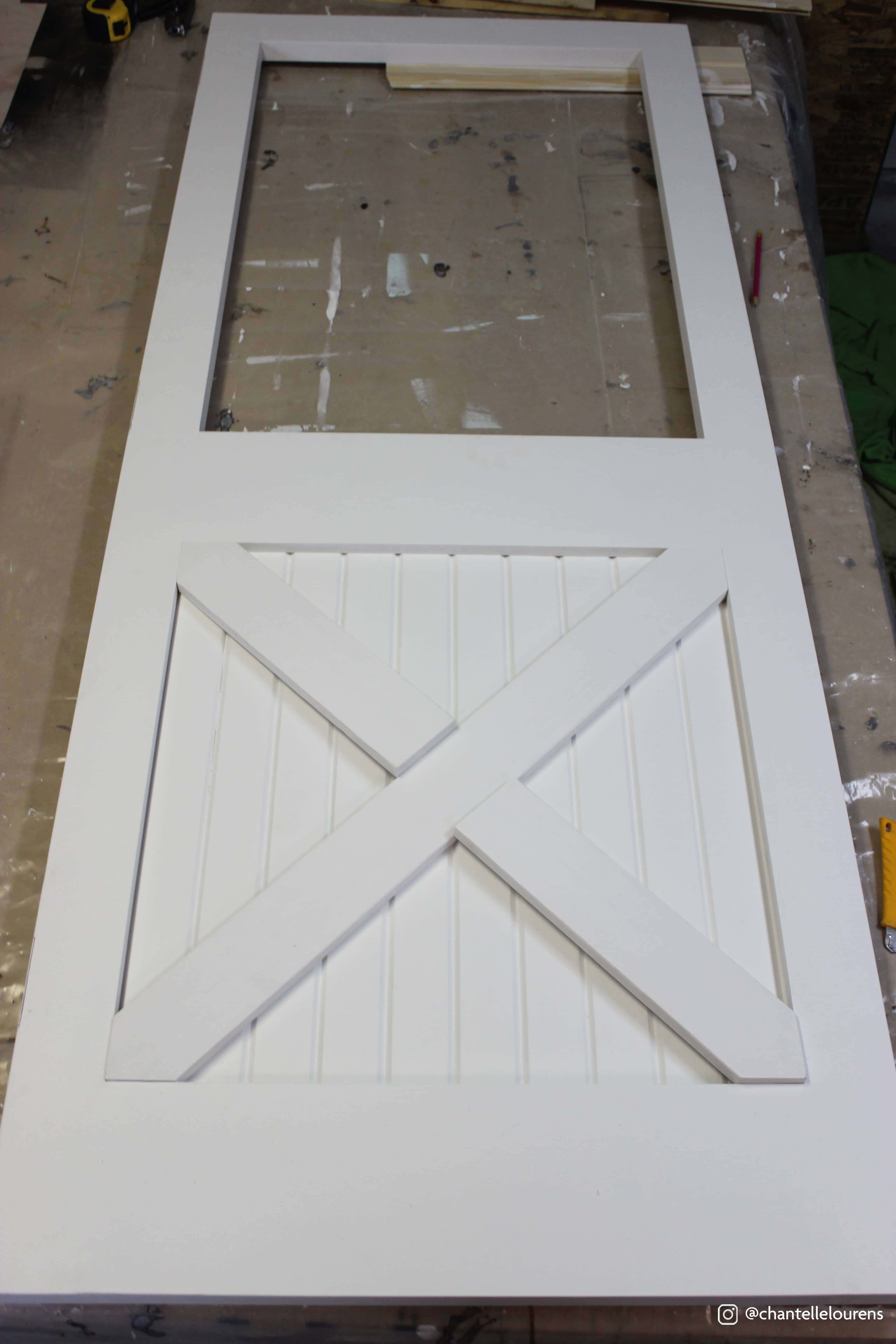 Step 6: Hanging Our Door
We laid the hinges on our door edge to mark out the cuts and used a router to cut the hinge pockets. We then pre-drilled all the holes to minimize splitting and added the hinges. We used cedar shims to raise the door a little bit and wedged it in place, maintaining an even gap between the door and the frame. We then marked out the hinge locations on the frame. Using a hinge as a guide, we placed it on the door frame and pre-drilled the holes. Then we hung the door and made sure it was level.
Step 7: Screen & Hardware
We stapled on the screen, applying a little pressure to smooth out any wrinkles but making sure not to tear the screen. We then covered the staples with trim, spackled the nail holes, then sanded and painted again. Finally, we installed this beautiful doorbell and door handle. I love our door handle! It's not only elegant but it also latches on the inside for added security.