Creating Custom Design Solutions
Let's talk design and storage. Just because you have a smaller kitchen, doesn't mean you can't get creative with impactful storage solutions and design elements. They can be fun and functional at the same time. Going into our kitchen renovation, I had a few non-negotiable 'must haves' in terms of design and function. The point is that there's usually a way to get what you want if you're willing to think outside the box.​




Item 1: The Dishwasher
Problem:
First up, the dishwasher. Our old kitchen had the dishwasher way over in the corner furthest away from the sink. Loading it was a total pain, and we would usually just end up hand-washing the dishes at the sink.
Solution: In the new kitchen layout, the dishwasher is directly to the left of the new sink: dreamy and functional! But it did create one additional consideration. The dishwasher was now in the same bank of cabinets as the stove. So we had to find one with the exact same stainless steel finish as our range. Who knew there were so many variations of stainless steel?​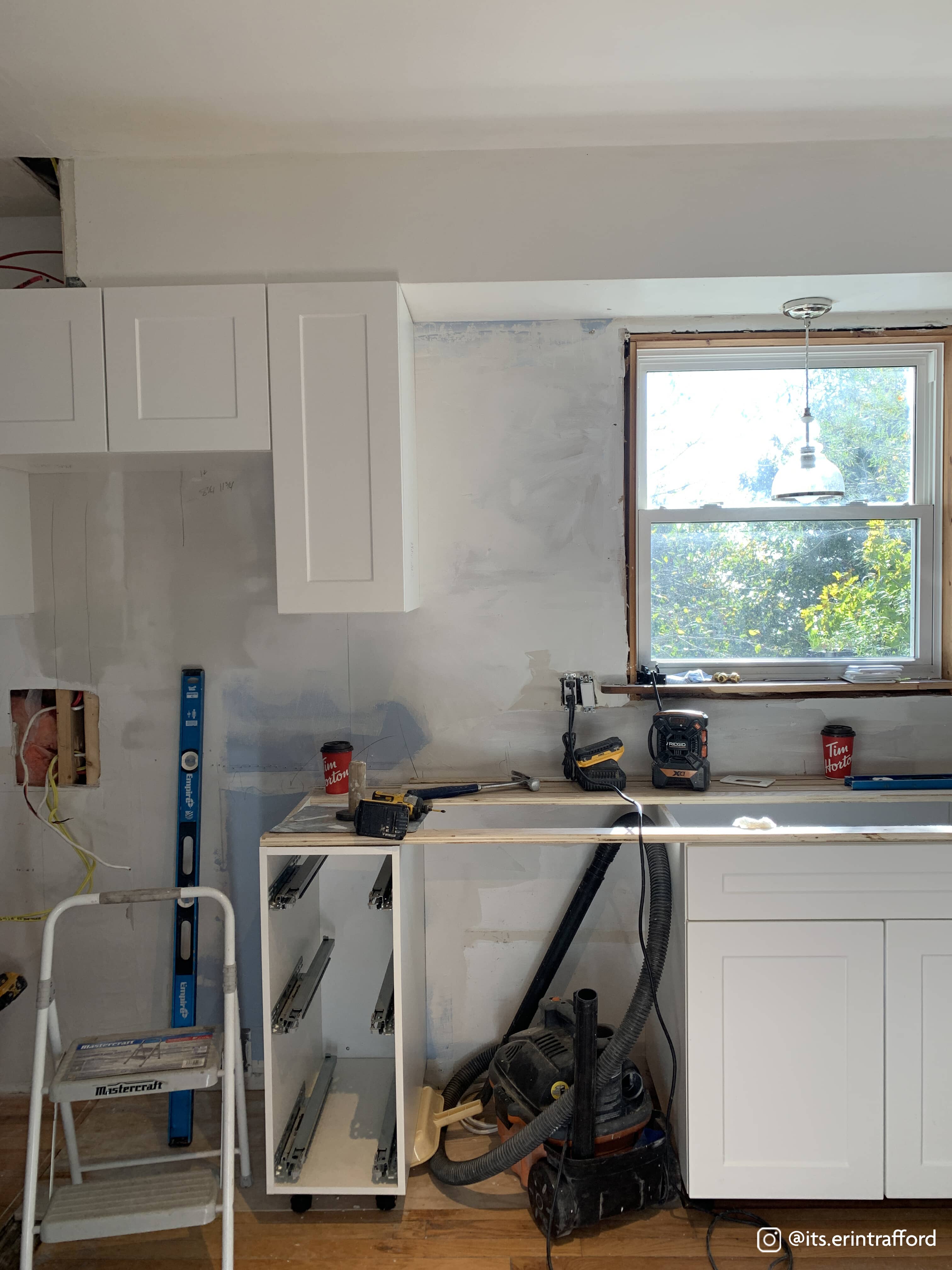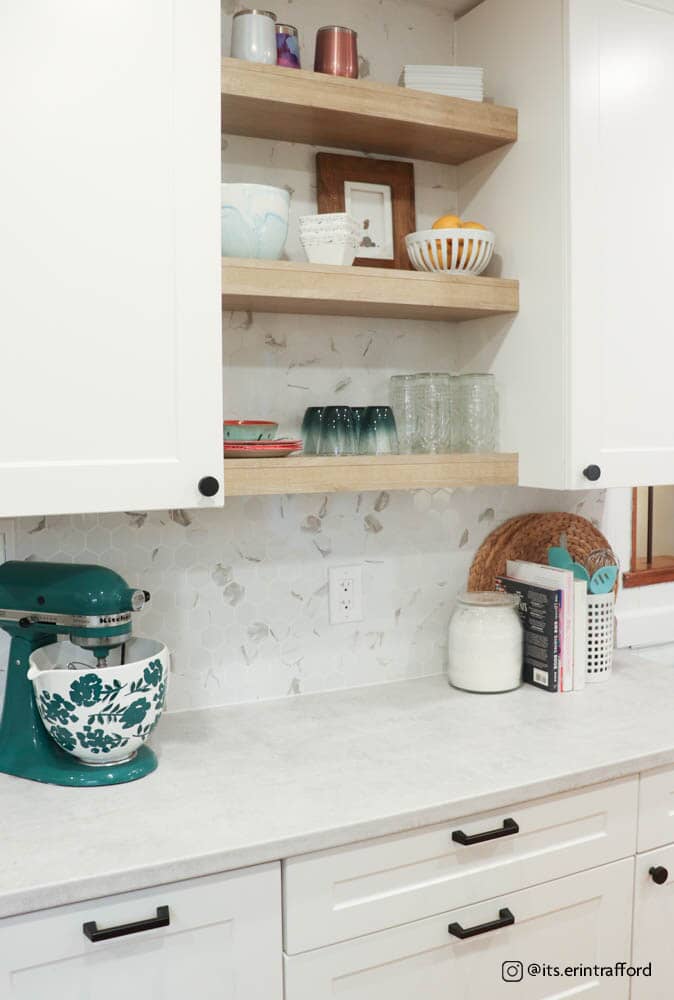 Item 2: Open Shelving
Problem:
I'm not a fan of loads and loads of closed cabinet doors, so I also wanted to create more open shelving. I know there's a great debate about the practicality of open shelves, but we did have two in the old kitchen and they were perfect for our everyday plates and bowls. They didn't attract dust because we used them every day, and the display looked great because it contained only our matching dishware.
Solution: The new kitchen design elevates the style of our open shelving by wrapping it into a previously unused corner above the sink. And with the wall removed and the new bank of cabinets running along the opposite wall, we were able to add a set of custom open shelves there too. I love it when a good design also uses up ALL the available space!​
Item 3: A Kitchen Island
Problem:

The last 'non-negotiable' design element for me was a kitchen island. For the past year or so we'd been using an old, creaky, cart from my craft space as an overflow counter. We loved the flexibility it offered, but the drawers were only 2.5" deep and couldn't fit much of anything. We also discovered that, while we are effectively doubling the size of the kitchen there still wasn't enough floor space to allow for a fixed island in the middle of the room.
Solution:

This creative workaround is by far my favourite customization. Instead of a fixed island, the Home Installs team built us a custom island on wheels. And not just any old wheels. These are heavy-duty industrial casters hidden behind a custom toe kick, so when it's pushed against the wall it doesn't even look like it's on wheels! It will live mostly on the back wall for everyday use. But when I want to bake with the girls, or when we are hosting parties with guests and need a buffet surface, we can just wheel it out and VOILA! The full-depth cabinets give us plenty of additional storage for those odds and ends that never seem to have a place. And the two drawers are functional, not fake, so I use one for oven mitts and potholders and the other for measuring cups and cookie cutters. To top it all off we chose a solid hickory butcher block: I just love how it adds warmth to our space.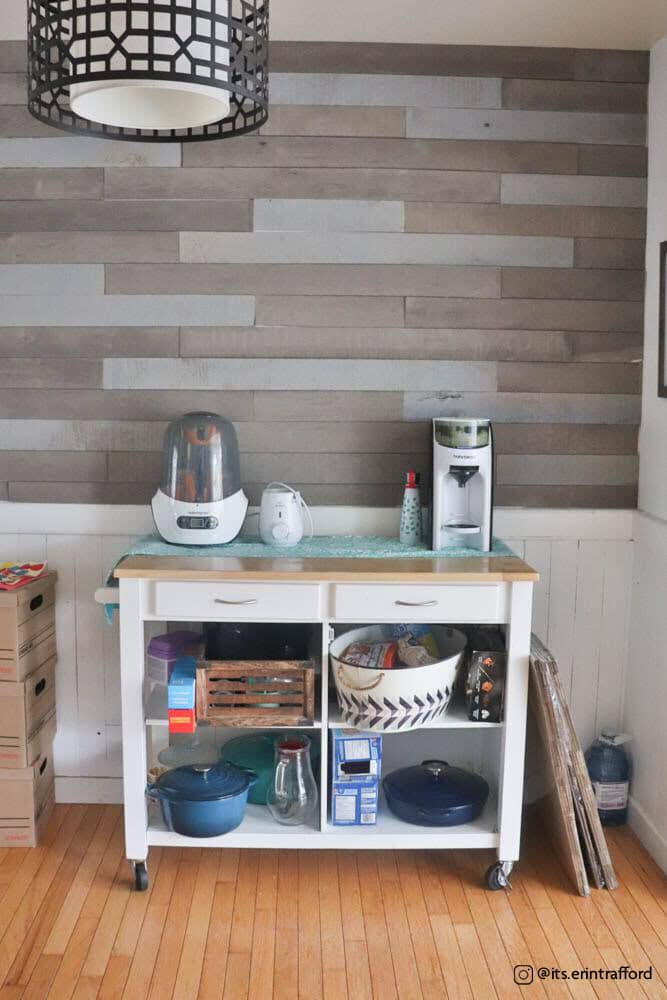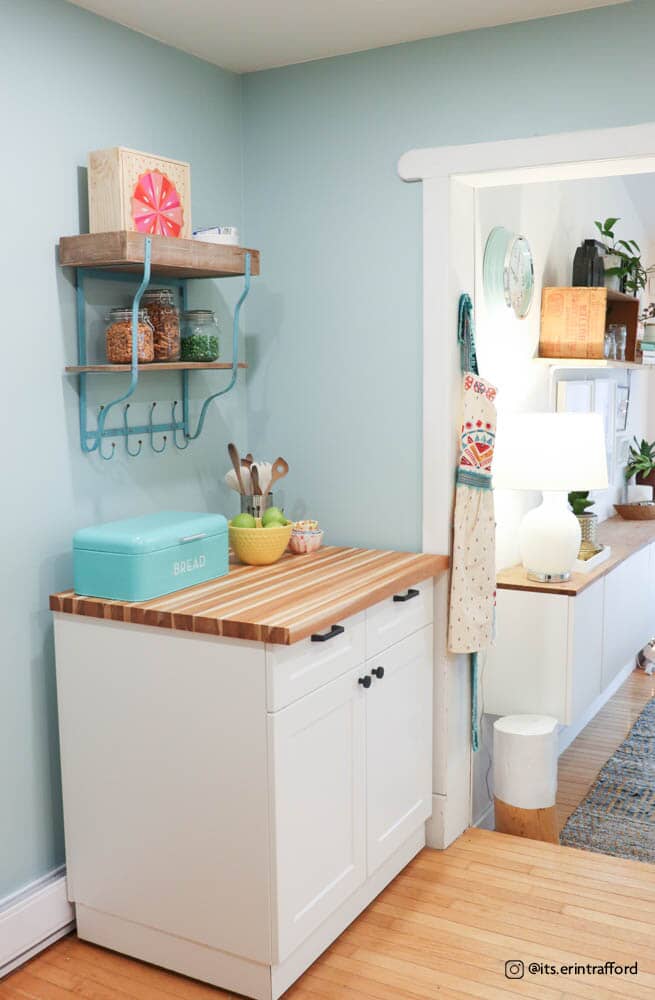 Other Creative Solutions for Our Small Kitchen
If you know what you want in your kitchen you should be ready to get creative to make it happen. If there's a 'must-have' item on your renovation list, then consider a bunch of different ways to bring it to reality. Here's what we learned from this process:
Put it on wheels: this gives you more flexibility in a small room
Hang it on walls: this frees up counter space, looks super cool, and is a great solution for things like mugs and kitchen utensils
Hanging rails or a rack from the ceiling: I'm a big fan of a good hanging pot rack!
Eliminate dead space: as we did by adding our new corner cabinet

Read the next installment of Erin & Dan's Kitchen Reno:
< Choosing Your Counters and Tiles >​