Rebecca & Mike: Horizontal Fence & Gate
Rebecca & Mike from "Mike & Me" show us how they built a stylish 6-foot high horizontal fence with gate to enclose their yard.
Rebecca and Mike have a big corner lot and a big dog, so building a perimeter fence made sense for both privacy and safety reasons. They settled on a horizontal design because the long, straight lines make for a sleek, modern look. It's an elegant style but needed some beefing up to withstand harsh Canadian winds and winters.
That meant using sturdy 6"x6" posts for the main frame, and adding 2"x2" support posts in the middle of each section. They also used thick 5/4 (1.25 inches) deck boards instead of 1" fence boards to help prevent warping over time.
Digging the post holes was left to a professional with a large commercial auger, which cut the dig time down to half a day. Mike mixed and poured all the concrete—a big job and definitely easier with two sets of hands. The finishing touch was the gate, which a local welder fabricated to size. Important design note: a spiked vs. straight gate bottom is easier to swing open across snow and ice!
Mike and Rebecca were beyond happy with how their fence turned out. In addition to bringing privacy and safety, it makes their property really pop and adds definite curb appeal to their home.
Important Note: Horizontal fencing is not approved for installation around a pool because the fence is climbable.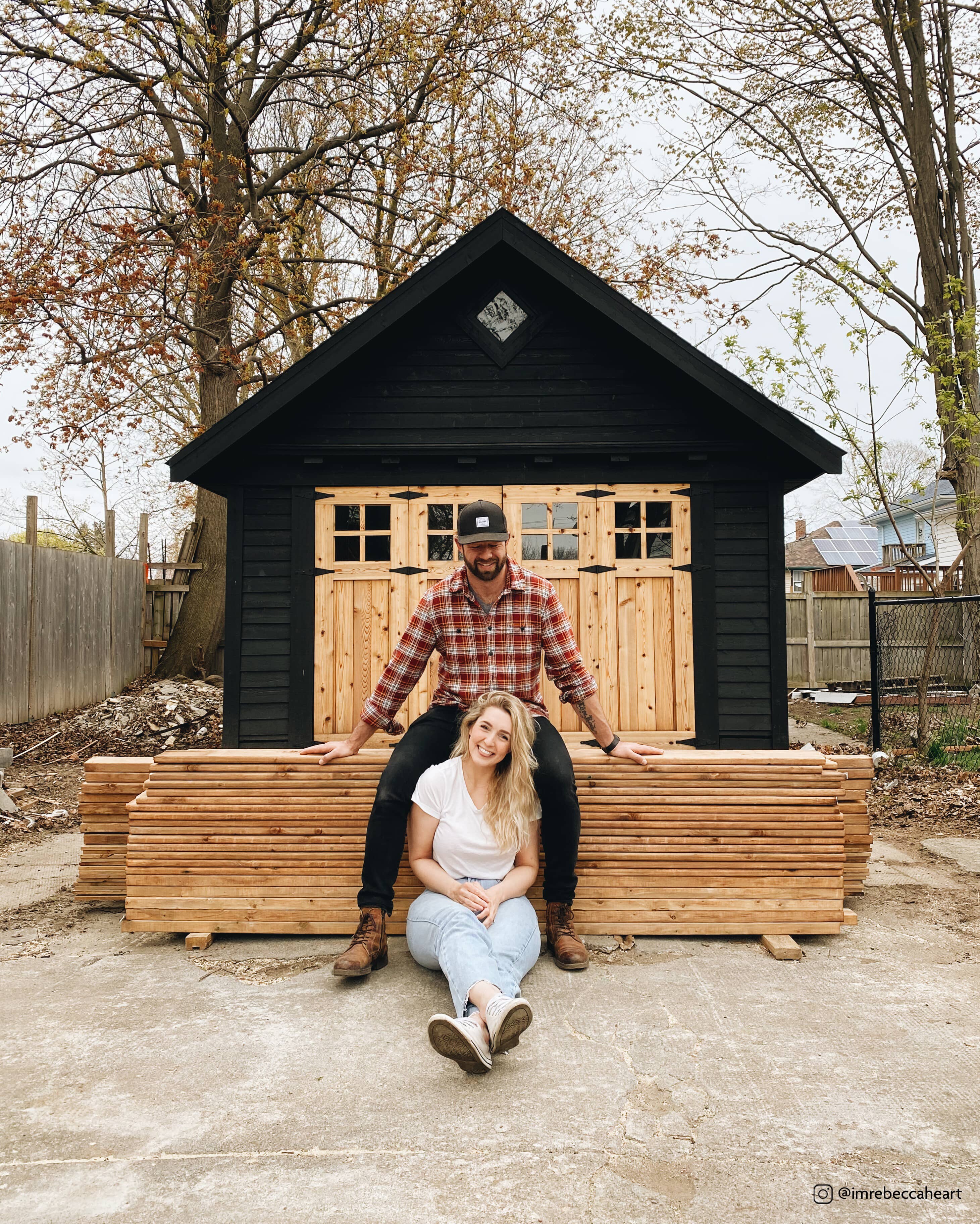 Here's a rundown of the materials* they used and the steps followed:
Have a municipal surveyor stake out your property line
Mark your fence line with twine and your post holes with spray paint (12"x12" holes 8 feet apart)
Have a contractor dig the holes (3-4 feet deep)
Sink your posts (6"X6"), mix your concrete (4 bags per hole) and pour it into the holes, using a level to ensure straight angles
Cut your 5/4 (1.25") deck boards to size using a circulating saw, then pre-drill your screw holes and attach the boards to the posts of one fence section (starting at the top)
Once several boards are in place, attach your 2"x2" post to them in the centre for support
Continue attaching your fence boards, and use a spade to dig a small trench to sink the last ground-level board into the earth
Complete the rest of your fence sections (except for your gate section)
Attach standard 1" vertical fence boards to the exterior join areas (to cover up any uneven joins)
Trim the top of your fence posts to size with a hand saw
Have your gate made to size and complete the installation
*Lumber may vary depending on your location. To see all your options, use our
Store Locator
to find the Home Hardware Building Centre or Home Building Centre closest to you.