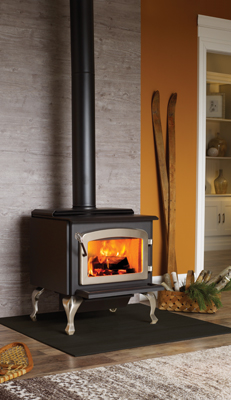 Vinyl plank flooring with a rustic wood look is used on the walls to create a warm cottage feel.

Directions

If covering your standard home wall, use a stud finder and mark out the location of the studs. Vinyl flooring can actually be quite heavy, so you'll want to attach the planks to something solid.
Starting in a bottom corner, place a vinyl plank against the wall, check that it's level and using an air nailer, sink a couple 3/4" - 1" nails at each point where the plank meets a stud. You'll need to adjust the pressure on your compressor so that the nails don't go right through the vinyl - you want the nail heads to sit just beneath the surface.
To keep the planks tight against the wall, sink another couple nails at 5-6" intervals
Once you have covered the wall, the last step is to patch up those small nail holes. We found a small dab of coloured caulk, smoothed over with a wet finger, worked best.