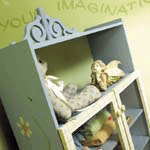 Transform a basic RTA bookcase into a whimsical cabinet to add charm to your décor.
Assemble bookcase following manufacturer's instructions.

Install finials (feet) on the corners of what would have been the top of the bookcase.

Screw through the bookcase and into the feet to secure.

Install brackets on the top of your cabinet at the back (normally bottom of bookcase) with glue and nail in place.

Doors
Make the 2 doors 16"x45" from 1x2 pine. Cut 4-4.5" sides with a 45-degree mitre and 4-16" ends, glue and nail the corners.

Cut hardware cloth into 2 pieces 15" x 44" and staple to the inside of the doors.

Install door handles and hinges on door and mount doors on cabinet level with the top of a shelf.

Paint to match and enhance your décor.

Hand-paint a design or use stencils for more decorative detailing.
Pictured a freehand daisy. Petals were painted in W017 with Yellow Centre.
Paint leaves 4J3-4.
Casual plaid on doors was created by using a fine tip artist's brush and two accent colours. Draw fine lines freehand to create a plaid pattern.
Beauti-Tone Paint Colours :
Bookcase: 2R1-3
Doors: W017, 2R1-3, 4J3-4
Finial Feet: 4J3-4
Dots: 2R1-3 (To create dots simply dip the handle end of an artist's brush in the paint and dab on.)
Materials:
Bookcase: 2653-845 2 Decorative Brackets, 2611-463 4 Fence Finials, 5258-936 4' of 36" Hardware Cloth, 2305-204 2 Wooden Door Knobs, 2130-125 1 1/2" Finishing Nails, 2174-453 (4) 1 3/4" #8 Woodscrews, 2020-495, Carpenters Glue. 24' of 1x2 Pine, Hinges (4)
Tools:
1030-565 Hammer, 1038-228 Miter Box, 1062-049 Mitre saw, 1136-103 Tin Snips, 8212-533 Small Artist Brush