Everybody makes mistakes. But when it comes to decorating your home, mistakes often come with dollar signs attached. The wrong colour, the wrong look... these errors can sabotage your decorating project. Here are some suggestions for avoiding mistakes that could cause you time and money.


1. Sample paint colors.
We've all felt it: that moment of indecision while standing before a colour selector in a paint store. So many choices! What if you pick the wrong colour? What if the paint appears darker or lighter than you expected? Fortunately, Beauti-Tone paint has a tintable 455 mL sample size so you can try a colour on your wall or a large sample board. Always leave a white edge around the sample board so the new colour does not fight with the walls current colour. It's an economical investment and well worth it before painting the entire room.
2. Have a plan.
Though you might view each room as a separate entity, the truth is that your home needs to have a good flow. If you have an open floor plan, then walk around your home and familiarize yourself with the sightlines from various locations: sitting, standing, walking. Be sure of the various elements in the rooms-paint colours, art, flooring, accessories, window coverings to ensure they all work well together. Your budget might not permit you to change every room in your house at once, but it's still important that you develop a long-term plan. That way, when you decide to decorate the family room a few months after finishing the living room, the styles and colours will look preordained.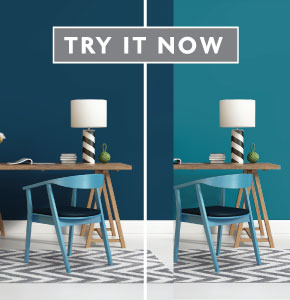 3. Visualize.
Another way to ensure that you've chosen the correct colours is to use our
colour visualizer tool
or download the Beauti-Tone Colour Visualizer app for your iPad. This tools allow you to upload photos, so you can see how specific paint colours will transform your home. Also pick up some colour cards and brochures that will allow you to choose colour combos and create colour schemes with confidence.
4. Seek professional advice.
Fortunately, you don't have to make your colour decisions on your own. Visit our in store colour experts, they can help guide you to the correct decision or validate the choices you've already made.