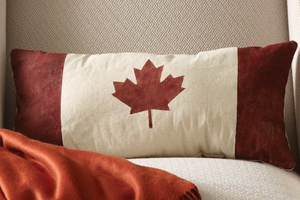 Show your pride for our great country with this DIY flag pillow.

What You'll Need

canvas drop sheet 1643-379
transparency film 
 (available at office supply stores)
hobby knife 1033-410
stencil brush 1610-344
painter's tape 1670-011
Designer Series Matte paint in Shaker Red CC004-3
Here's How
Cut two pieces from the canvas cloth to the desired size of pillow, adding a seam allowance.
Print a maple leaf stencil to suit the size of your pillow.
Cut the leaf stencil from the transparency film using a hobby knife.
Stencil the maple leaf design in the middle of the pillow using a stencil brush and paint. Use the dry brush technique when stencilling for best results.
Mask off the borders (approx. 11.5 cm) with painter's tape. Stencil the borders.
Sew the pillow together leaving a small opening. Turn right side out, and stuff with polyester filling. Slip stitch the opening closed.