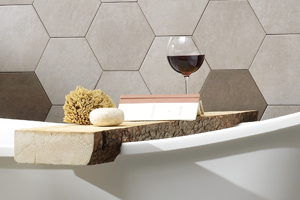 Crafted from a rough sawn piece of live edge lumber, this simple tray brings convenience and tranquility to your relaxing soak. We visited a local sawmill to get this 3' long, 3" thick piece of live edge spruce.

Directions

These instructions are for a free-standing claw-foot bath tub; if you have a standard drop-in or alcove tub, just size the wood so that it's wide enough to rest on the bath tub deck and skip to step #2.
Cut the piece of lumber to a size that's 4-6" longer than the width of your tub
Mark in from each side half the extra length you added to the tub's width minus a 1/4", for a little extra space.
Measure the width of your tub walls, add a 1/2" and make another mark in from your other two marks.
Adjust the depth stop on your sliding compound mitre saw so that the blade will only cut into half the width of the wood.
Lining the saw blade up to the first outside mark, make a cut, then slide the lumber in about 1/8" and make another cut. Continue this until you reach the inside mark, then do the same to the other side of the wood.
Using a wide wood chisel, clean up your cuts a little and sand smooth.