The perfect colour combo can enhance any home's exterior.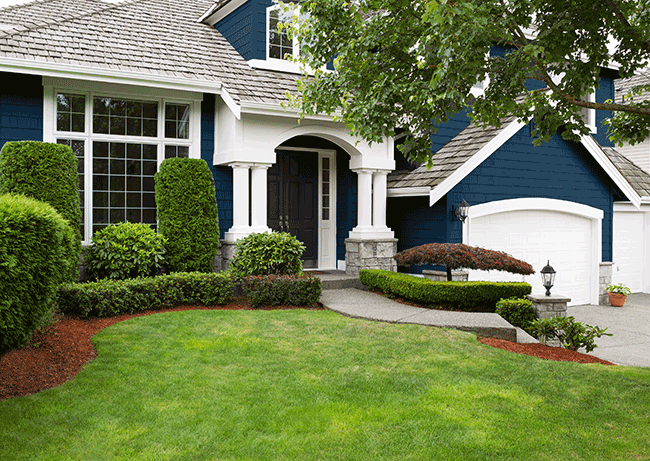 A well-designed home exterior has curb appeal and increased salability.

This requires careful planning to ensure that the parts of the colour scheme-main colour (siding or brick), trim colours (including eaves and porch elements), and accent colours (doors, sills, and casements)-work in harmony. Choose colours that are up to date and will remain "in" for the life of the paint job.

So what colours are in? Natural schemes are the most popular, with grays, greens, earthy browns, sunny yellows, and sea- and sky-inspired blues dominating house exteriors. All of these colours work well together in the right tones and are being paired in beautiful combinations.

Within this natural palette, grey is taking center stage. Grey is prevalent as a siding, trim, and accent colour and in hues ranging from silvery to deep charcoal. Gray is influencing other colours, too, resulting in foggy blues, sage and olive greens. In combination, some of the most popular siding/trim/accent colours are gray, white, or cream with charcoal; olive or lighter olive with buttery yellow; sable brown, caramel, and plum; and creamy yellow, white, and dark gray or marine blue.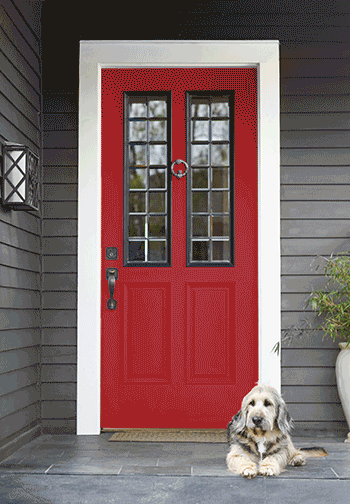 Within these natural colour schemes, doors might match the trim colour-or run rogue. Brighter colours can keep a door from blending into the background. Here are a few observations:

A bright yellow door adds pop! Yellow also suggests happiness.
A red door brings vitality to an exterior and in deep shades looks sophisticated.
Black, which is becoming a popular door colour, denotes elegance. It works especially well on classically styled homes.
Green doors can play off the surrounding landscaping with all sorts of possibilities, from deep olive to mint to lime.
Navy blue and violet add interest to natural brick and stone façades.
Many of these bright door colours can also be used on window and door casements to make a home look truly put together. Just don't overdo it-remember that the goal with a house exterior is to stand out, but not too much.