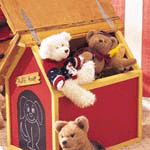 This is what you call a really ruff project.
The lower part of the Dog House is a simple box construction. Decide on the length, width and height of the walls for the first three cuts. We used 16" wide x 16" high x 24" long. Cut the floor 15-1/4" x 23-1/4". Cut two wall panels 16" x 23-1/4". Lap-join the walls over the edge of the floor, glue and nail in place.

The overall height of the end walls will determine the pitch of the roof. We used 24" to the peak. Cut 2 end walls 16" wide x 24" high. Mark the wall height 16" and the top centre line of the peak. Draw a line between and make your cuts. Glue the edges of the walls and floor sections and nail the end walls in place.

Reinforce the corner joints. Inside, use 1/2" quarter round cut to the appropriate lengths. Glue the corners and nail in place. Outside, finish the corners with "L" trim glued and nailed in place. Note: Make sure there are no nails or rough edges sticking out.

To make the roof beam cut the 1" x 3" x 8' pine into 3 equal lengths. Glue and clamp to laminate. Rip cut to match the roof angle. Notch the bottom to receive the top edge of the wall. Cut off excess length. Trim the upper edges of the walls inside and out with 1" strapping. Cut or sand the edges to match the roof angle.

Cut the two roof panels to overhang 2" at the eaves.

Install the cedar shakes on the two roof portions. Decide on the number of rows and cut the shingles so that they are twice the length of each course. Break the shingles into appropriate widths. Starting at the eave, glue and staple into place.

Trim the top and side edges of the roof panels. Glue and nail the fixed panel in place flush to the roof brace. Mark the hinge position on the roof brace and chisel out so it is flush. Hinge the lid portion of the roof so that it will swing freely over the fixed roof.

Trim and paint to suit the decor of the room.
Beauti-Tone Paint Colours:
2C3-8, 1T1-5
Paint:
Paint - blackboard and Wood Shield Stain
Materials:
1 - bundle of cedar shakes, 2 - 4' x 8' sheets of 3/8" sheeting or hardboard, 2 - 8' lengths of 1" "L" trim, 2 - 8' lengths of 1/2" quarter round, 1- 8' length of 1" x 3" pine, 2- 8' lengths of 1" strapping, 1" and 3/4" finishing nails