Selling Your Home with Colour Confidence
Increase the saleability of your home by painting it in a gorgeous neutral palette. It is the best investment you can make when selling your home! Get the 18 best-selling colours at your local Home Hardware today.

Haute Sellers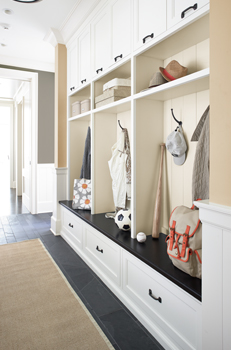 The perfect neutral is understated sophistication. Your walls become a canvas that showcase your home beautifully. The colour essential palette is a perfect balance between captivating and calming. Whether your home looks best dressed in warm or cool shades, our collection has the perfect hues for ceiling, trim and wall. Displayed in a monochromatic colour scheme that makes your space feel more spacious with a harmonious atmosphere.

Beautiful trim is stunning when painted a contrasting colour however, if your baseboard is plain, make it disappear by painting it the same colour as the wall. The walls will look higher and buyers' eyes will be drawn to the room's best features.

Set The Stage To Sell
Staging is another key element in selling your home. The following are basic staging techniques that work!

Less is More
De-clutter. Clear kitchen and bathroom counters. Give the impression of ample storage by cleaning closets and drawers. If necessary, store excess furniture off-site to create a sense of spaciousness.

Clean to the Extreme
Ensure windows, floors, counters, fixtures, and appliances sparkle and all light-bulbs are working.

The Smell of Success
An unusual odour can turn a perspective buyer off. Simmer cinnamon sticks before a showing however, put away all traces before buyers arrive. And remember, if odours are too strong buyers may wonder if you are masking something.

Keep It Fresh
Fresh flowers and fruit are the perfect accessory when selling your home.

First Impression
Paint your front door a fabulous colour, and stylize with a seasonal urn to enhance your home's curb appeal.