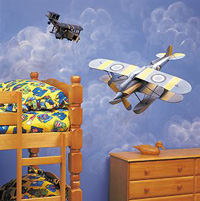 Paint base coat. Let dry for 48 hours.

Dampen rag with water, then dip into the light colour paint.

Using a circular motion, outline the top of the cloud. Colour wash the cloud until it is the size you need. Try to keep the blue showing through the clouds for a more realistic effect. The bottom of the cloud should be light and wispy looking.

Continue this process until all the clouds have their first colour wash.

Repeat Steps 2 and 3 with the second colour.
Paint Tools:
Base Coat: 2Q3-6


Top Coats: W012, W020

Tools:
Rag or Stain Pad and Water
Tip:
If you are unsure of the placement of clouds, use white chalk and outline them first.