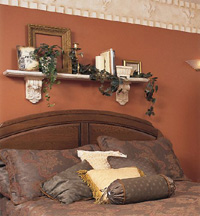 Determine the depth of the crown molding. (In the visual, it is 12".)

Measure down desired depth and tape the bottom line all around the room.

Measure 2" down from the ceiling all around the room. Mask the bottom of the line with tape.

From the previously marked bottom line of your crown molding, measure up 2" and mark it all around the room. Mask the top of the line with tape.

In the least visible corner, begin measuring at 2" intervals and place a piece of painter's tape at each 2" interval. Always check every 4' to ensure that your taping is straight. Note: Make a 2" template to make the marking off process easier.

Mix drywall compound with a small amount of water-based paint.

With a brush or drywall tool, spread the drywall compound (1/8" to 1/4" thick) along the 2" strips you have marked off at the top and bottom of the crown molding.

Let dry for 15 minutes then remove all tape. Let dry 24 hours.

Mark the locations throughout the room where you want the stencil to appear.

Place stencil in each location, holding it in place with painter's tape or spray adhesive.

Cover the stencil with the drywall compound mixed with paint (1/8" to 1/4" thick).

Remove the stencil immediately and check back of stencil to ensure the drywall compound has not seeped through. If it has, carefully clean it off. Let drywall compound dry.

Paint the entire moulding area with the base coat colour. Let dry.

Colour wash the entire crown moulding area with a paint and glaze mixture (2 parts glaze to 1 part paint).




Optional step: Using the darker colour, diluted with water, and the artist's brush, float colour along the edges of the dentil and stencil to create the impression of even more bas relief.
Paint & Tools:
Base Coat: 5J2-1
Colour Wash: 5I1-5
Accent Colour: 6J1-8
Wall Colour: 4E2-7

Tools:
Drywall Compound 1625-860/753, Drywall Scrapers,1630-275 2" Painter's Tape 1670-800, Level 1036-177, Chalk Line 1019-150, Brush 1612-605, Small Artist's Brush 8212-917, Roller Kits 1656-504, 1656-407, Drop Sheets 1643--65, Tape Measure 1048-342