Retro rocks! Groovy details and trendy colours team up for a dynamic room.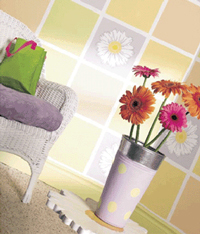 Paint wall with base colour. Let dry 24 hours.

Measure width of wall.

Divide wall evenly into squares. Each square must be no less than 12 inches in width.

Take this measurement and mark out spaces both horizontally and vertically across area.

Using a chalk line mark spaces on wall.

Using 1" painter's tape run tape vertically along the left edge of chalk line.

Starting at the top wall using 1" painter's tape run tape horizontally along the top edge of chalk line. (There should be a full colour block at the top of wall.)

Using the layout below paint the inside of each square with the corresponding colour.

Remove painter's tape from wall, revealing the 1" grid lines between each colour block.

Decide which colour block will have the daisy motif and using stencil layer #1 and spray adhesive align stencil in block. Using white paint cover stencil.

Align layer #2 over the daisy outline and stencil using a medium yellow colour.

Mix a small amount of the background colour with Home Drywall compound and spread over the petals on layer #3. For the centre of the daisy on layer #3 mix dark yellow with the drywall compound and spread over the centre of the flower.
Beauti-Tone Paint Colours:
Base Coat: White
Top Coat: 2020 Wood Violet , 2159 Goddess, 1215 Minerva, 1194 Pale Sunset
Daisy: 2180 Golden Feather, 2179 Applesauce
Materials:
1670-784 Painter's Tape, 1625-860/753 Drywall Compound, 6460-402 Paper Plates, 1613-766 Foam Brushes, 1656-407 4" Rollers and Tray, 1036-177 Level, 5743-305 Pencil, 1019-150 Chalkline, 1048-011 Ruler, 2042024 Spray Adhesive, 1682-450 Daisy Stencil (Flower Power)