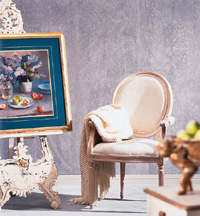 Paint base coat, let dry 48 hours.

Crumple up 3'-8' long piece of brown paper. Unfold. Paint the wall with a paint and glaze mixture. Mixture is 50/50 (more glaze may be added for a softer look). Only paint an area the size of your paper.

Place wrinkled paper over the wet paint mixture. Take the roller sleeve and rub the entire paper.

Remove paper and discard. Only use the paper once. To handle corners and small spaces crumple a small amount of brown paper in your hand and pull the paint off. Handle corners and small areas as you work your way around the room.
Paint & Tools:
Base Coat: 6R1-2
Top Coat: E120

Tools:
Medium Weight Brown Paper 8955-730 ,
2 Roller Refills 9" 1655-961, Roller Kit 9"
1656-504, Beauti-Tone Glaze1824-280/299
Scrumple
Paint base coat and let dry 48 hours.

Roll on paint mixed with glaze (mixture is 50/50). Paint in sections no more than 3' to 4' wide the height of the room.

Place drop sheet on wet surface and rub hands or roller sleeve all over the plastic. Do not leave finger marks. (Note: plastic must be 1' to 2' wider than wet surface.)
Tip:
Cut enough plastic to do room before starting.