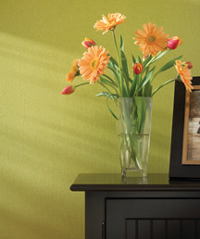 Wake up your walls with easy-to-create, patterned rollers. Visual interest and depth for your walls are just a paint stroke away.
Paint base coat and let dry 48 hours.

Paint the wall the top coat colour mixed with glaze. Mixture is 4 parts glaze to 1 part paint. Paint sections with the glaze mixture no wider then 3' to 4' at a time.

Randomly roll the patterned roller over the wet paint mixture. The more you roll, the more subtle the effect.

Handle corners and small spaces as you go along by crumpling a small piece of vapour barrier in your hand and dab on area. Repeat process around the room.
How to make 2.5" x 2.5" Roller


Cut between 75 and 100 2.5" square pieces with rounded corners. Glue each square in the middle. Place on roller with a pencil. Let dry 48 hours before using.

Paint & Tools:
Base Coat: Beauti-Tone 4B2-6
Top Coats: Beauti-Tone 2K1-8 Cactus

Tools:
Roller Kit 9" 1656-504, Hot Glue Gun 2047-154, Glue Sticks 2047-207 to 298, Pencil 5743-305,

Scissors 4464-476, Beauti-Tone Glaze 1824-280-299, Bag Roller, 1.1 mil (lightweight) Vapour Barrier 2645-757