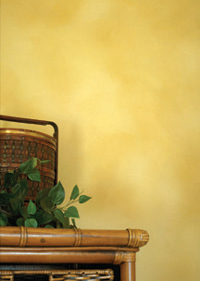 The soft richness of suede is rolled on your walls in a veil of colours, transforming your room into a designer's showplace.
Paint base coat and let dry 48 hours.

Pour glaze into tray (approximately 2 cups). In one corner of the tray, pour the lighter shade (approximately 1 cup). In the opposite corner of the tray, pour the darker shade (approximately 1 cup).

Mix the glaze slightly with the paint, never mixing the two colours together.

Place the roller in the glaze and roll back in one direction. Colours should appear separately on the roller.

Roll randomly over a section of wall.

Using a magnetic broom or cheesecloth, soften the edges and blend colours to take away the hard edges.

As more glaze and paint is required, add glaze first. Pour glaze into the middle of the tray. Then add paint, pouring it into the appropriate corners.

To handle corners and small spaces, dip brush in paint to show both colours. Brush randomly on the wall in the corners. Handle corners and small spaces as you paint your way around the room.
Paint & Tools:
Base Coat: Beauti-Tone 3I1-4
Top Coats: Beauti-Tone 3I1-6, Beauti-Tone 3I1-4

Tools:
Beauti-Tone Glaze 1824-280/299,9 " Roller Kit 1656-504, 4" Polyester Brush 1612-801, 2" Tape 1670-105