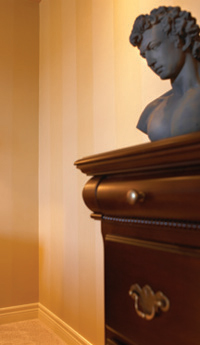 Reflect your home's personal style of sophisticated elegance with striping, a versatile paint effect.
Vertical Striping
Paint wall desired base colour. Let dry 48 hours before painting stripes.

Measure and mark stripe placement on walls with chalk line. Stripes may be any width you desire. 4" to 8" is average.

Place tape along the outside edge of chalk marks on stripes that will be painted. Run your finger along edge of stripe just prior to painting. This will ensure a crisp line. Wipe chalk off with a moist rag before painting.

Paint or technique your stripe.

Remove tape within 15 minutes after painting.
Paint & Tools:
Base Coat: Beauti-Tone 5I1-5
Contrasting Stripe: Beauti-Tone 5I1-5 tinted in a medium base.

Tools:
Tape 1670-105, Chalk Line 1019-150, Tape Measure 1048-681, Roller Kit 9" 1656-504, Beauti-Tone Latex Glaze 1824-280/299, Lint Free Rags 1611-205