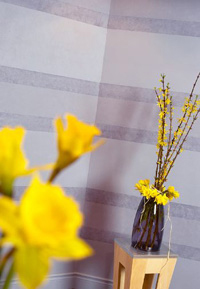 Paint base coat and let dry 48 hours.

Measure and mark walls in horizontal stripes. (Pictured 4", 8", 4",12" and 4" repeat)

Mask off stripes to be painted. With a mixture of 1 part paint to 1 part glaze roll on paint mixture. Let dry 48 hours.

To make third colour mix an equal amount of base and top coat colour together. Mix with equal amounts of glaze and paint. Mask off and paint the remaining stripes. Let dry 48 hours.

(Optional) Mix 6 parts glaze to 1 part FC79 or top coat colour and colour wash entire wall. This last step will soften and tie the colours together.
Paint & Tools:
Base Coat: 6S2-4
Top Coat: 6T1-5

Tools:
Tape 1670-784, Chalk Line 1019-150, Measuring Tape 1048-342, Roller Kit 9"
1656-504, Beauti-Tone Latex Glaze 1824-280/299, Lint free rags